Posted by:

administrator23-9
Comments:

0
Post Date:
03/04/2023
---
administrator23-9
COPENHAGEN, Denmark: Among the myriad benefits offered by digital dentistry is an improved ability to communicate, share files and collaborate with partnering dental laboratories. Dr Zuber Bagasi, the founder and CEO of Synergy Dental Group, will showcase these advantages and more at the upcoming 3Shape Navigate. This free online event will feature a wealth of stimulating talks designed to put dental professionals on the path towards workflow digitalisation, and Dental Tribune International caught up with Bagasi ahead of his presentation.
Dr Bagasi, when and how did you become a practitioner of digital dentistry?
My digital dentistry journey really started about five years ago. A large proportion of my work is related to dental implantology, and I have also taught and mentored on this topic for many years. What I found is that more and more dentists were increasingly reluctant to advance themselves in performing minor oral surgery procedures owing to anxiety over increased litigation risks, and the inexperience I sometimes witnessed was alarming.
Dr Zuber Bagasi, the founder and CEO of Synergy Dental Group. (Image: Zuber Bagasi)
I made the decision to invest in an in-house digital CT scanner, which would not only support my own dental implant planning and provision, but also allow me to mentor course participants in predictable implant planning and placement. This was followed shortly afterwards by a digital scanner, since to create a CT-planned surgical guide, you needed to have an analogue or digital impression, and it made sense to go for a digital scanner.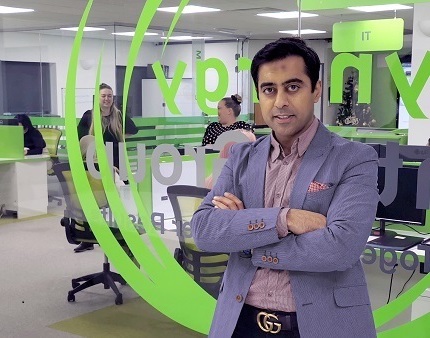 What advice do you have for dentists who are planning to transition from more traditional workflows to digital methods?
I operate a group of dental practices, mainly under a joint venture partnership model, where associate dentists who have become partners are like-minded and always want to excel clinically. Together, we have come to understand that you will be limiting your patient outcomes if you do not adopt digital dentistry, and one of the most important aspects of this is digital scanning. We currently offer a postgraduate diploma in implantology through SynTrain Academy, our online training academy. As part of our curriculum, all our lecturers teach the use of digital scanning technology. We believe that there is a huge revolution within dentistry which involves using a digital scanner, and for this reason, we have to teach this to new course participants.
How has 3Shape helped you throughout your digital journey?
It has helped massively. We currently use the 3Shape TRIOS 3 intra-oral scanner for all our short-term orthodontics, saving at least 60 minutes per case. We use the company's digital scanning solutions for all of our implant planning and rely on TRIOS for restorative work and for smile design, however simple or complex it may be.
"I have been using 3Shape's scanning solutions for full-arch implant restorations for several years now, with very predictable results"
We also use it for intra-oral scanning for tooth whitening cases as well as for the production of partial dentures. There are some limitations, especially when you are creating full-arch dentures. However, I have been using 3Shape's scanning solutions for full-arch implant restorations for several years now, with very predictable results.
What will you be highlighting during your presentation at the upcoming 3Shape Navigate virtual event? What will participants learn?
The focus of the session will be to demonstrate the ease of use presented by the 3Shape TRIOS intra-oral scanning range, not just in terms of scanning the patient, but also when it comes to sending the scans to a dental laboratory. It takes just seconds for these scans to be received by the laboratory, allowing for a much more efficient workflow as well as a finished product with a higher degree of accuracy. Attendees will also learn about how TRIOS offers an open system, which allows it to integrate with other technologies and materials and work for all aspects of dentistry.
Editorial note: Dr Bagasi's presentation, titled "Working with your lab is easy with TRIOS", will be available in five languages (English, Spanish, French, German and Chinese) and will be able to be seen as part of the upcoming 3Shape Navigate event. Set to be held on 17 and 18 March, this online symposium offers dental professionals the opportunity to learn from a range of speakers who will share their personal digital dental journeys. Fast and easy registration on the 3Shape Navigate website is free of charge.