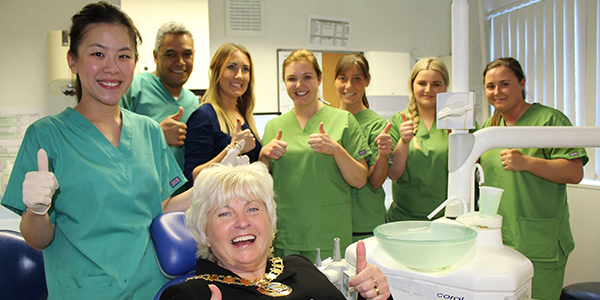 Are you ready to join the revolution?
Our Joint Venture Partnership model is the most disruptive model ever seen in dentistry making us one of the fastest growing groups in the UK. We are not Equity backed meaning that together, we make the decisions, not any external investor. Utilising highly motivated and skilled clinicians, placing them on the driving seat as an equal partner and being supported through a robust, proven management and growth model. Allowing us to win many NHS contracts as well as creating high growth dental practices.
For some of us, taking the next step in your career pathway is practice ownership. This step can be one of the best steps you will take – especially if it means that you are in control, you are financially rewarded and you are building your own story. For the first 3 years, generally, new practice owners are finding their feet, stabilising their team, learning new business and management skills and at the same time, trying to balance a healthy work-life balance.
But what if, we were able to leapfrog you 3 years into the future – cutting out those 'hard-times' and giving you a proven recipe which is baked for success? At the same time, you are able to maintain your control, be part of a bigger picture, focus on what you love doing most, share the risks of practice ownership and above all, build a highly profitable practice.

Naturally, the next steps for most associates are to invest in their own practice. With over a decade of experience in buying, building and setting up squat practices, associate dentists can benefit and leapfrog from the success our team have built over the years. As an associate dentist, you have an option to buy into an existing Synergy Dental Practice, buy a new practice together, or start a new practice as a squat practice. We will support you with your dreams and aspirations.
The biggest benefit for any associate dentist who is thinking about practice ownership is that all the central governance and business management systems are taken care of using a trialled and tested model. We create highly successful dental practices and you can be part of that journey. Whether you want to invest in 1 practice or multiple practices, we will support you.
Dr Bagasi and his team have created multi award winning dental practices and you can leapfrog from this success. We have created bespoke Structured training pathways and Accredited Training Courses to help you and your team to develop both clinically and professionally. With our bespoke development Software SynPro, the full practice management systems are controlled and managed seamlessly. From HR to Recruitment and Governance and compliance, we have it all covered.
Driving new patients to your surgery is key part of Joint Venture Partnership Model allowing you to have high volume of new private patients with a high treatment plan conversion rate. Our Central Marketing Team includes a full team of in house Digital and Offline Marketeers ensuring that you will never have white spaces. Why don't you speak to any one of our existing dentists to find out for yourself.
So What Next?
Our partners that have joined our team benefit from a wider network of professional and business support and a proven marketing model that will grow your practice.
As a partner, you have the following options in practice acquisitions:
To buy into an existing Synergy Practice. The benefit being that the practice is already highly successful and fully refurbished. All you do, is step into the driving seat.
To locate a suitable practice jointly, invest equally into it and share the rewards equally. At the same time, let our experienced team take care of the full cradle to grave service. You have input as much as you want. You may decide to brand the practice as 'Synergy' or we will help you create your own unique identity whilst benefiting with the full infrastructure of practice management and growth. You get to choose the cake, and eat it as well.
Financially, we can help you with funding for the acquisition or arrange tailored plans that suits you.
If you then want to invest into a 2nd or more practices, we will support you with this. The world is your oyster.
If you are thinking about practice ownership and would like to consider our Joint Venture Model, it would be useful if you could complete the form below to help our team understand your requirements
"Synergy – Helping YOU build YOUR Story"