Dentistry has been changing drastically over the last decade. This change has only been embraced by a few who have seen their practices evolve and benefit. An increasingly regulatory environment with the CQC, GDC, NHS, GDPR to name a few, have resulted in many practice owners taking the time away from clinical dentistry.
We understand what it takes to spend years investing your time and energy into your practice or practices.
Typically, once a practice owner 'hits the wall' the next natural step is to sell. They may feel isolated or hard to access a network of like-minded clinicians or simply the time might 'feel' right. Whatever the circumstance, we would love to hear from you.
Across the healthcare industry, dentistry is one of the only sectors that have not embraced a Joint Venture Partnership model. We believe in creating partnerships tailored for you with the outcomes being:
Less administration, less stress, more leisure.
Equity Release but maintain control
Continue with your clinical freedom.
Develop your team
Offer more to your patients
Most importantly, for you and your team to re-ignite the passion that you had when you first decided to become a principle.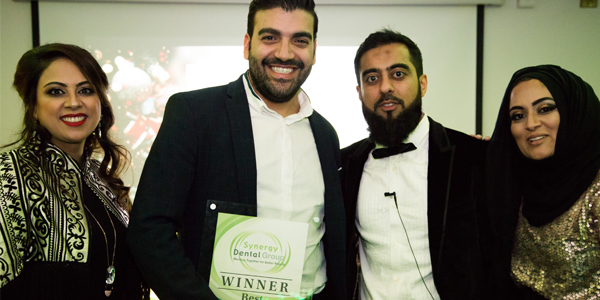 Synergy have been running and developing successful award-winning dental practices for over a decade – our philosophy is simple, 'Have Fun, Do Right by Your Patients, Let your Business Grow – and in that order'.
So what if we were able to relinquish the pains of practice ownership, and support you to grow your practice to realise your aspirations? What if we were able to support you with more practice acquisitions so that you can create your own legacy? What if you don't want to sell but only considering this option with the regulatory changes and financial pressures? We would love to hear from you whatever the circumstance.
Here are some options for you to consider:
Maintain full ownership of your practice – Let Synergy support you with your practice and business management and growth.
Introduce Synergy as a Partner within your Business. The terms of the partnership can be flexible.
Sell your Practice to Synergy and continue as an associate or take a long vacation into the sunset!
You can maintain your practice identity, rebrand it or embrace the Synergy Brand – it's YOUR call.
Whatever your personal requirements are, we would love to hear from you – you can speak to Zuber, our CEO, directly or meet up for a coffee or a curry!